Phos-tag™ Acrylamide

SDS-PAGE 分离不同磷酸化水平的蛋白!
  在不使用放射性同位素的情况下,利用 Phos-tag™ SDS-PAGE 即可分离不同条带中的磷酸化和非磷酸化蛋白。分离后的凝胶可用于 Western blotting 和质谱分析等后续实验。
  Phos-tag™ SDS-PAGE 操作简单,只需在常规 SDS-PAGE 胶中加入 Phos-tag™ Acrylamide 和 Mn2+ 或者 Zn2+ 即可进行实验。在电泳过程中,磷酸化蛋白的磷酸基团与 Phos-tag™ 中的二价金属离子相结合,降低其迁移速度,从而可区分磷酸化与非磷酸化蛋白。
◆原理

◆优点、特色
● 采用 Phos-tag™ SDS-PAGE 可轻松分离磷酸化蛋白
  无任何放射性元素及化学标记!
● 可检测不同磷酸化水平的磷酸化蛋白
  无需任何磷酸化抗体!
● 适用于内源性蛋白的磷酸化分析!
◆案例、应用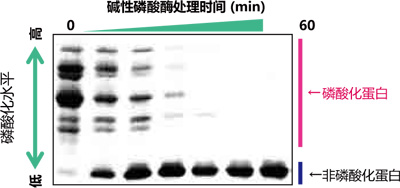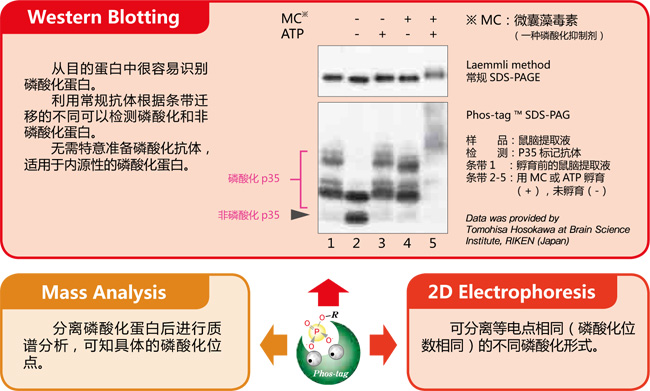 【使用Phos-tag™ SDS-PAGE的磷酸化/非磷酸化蛋白比较】
我推荐使用Phos-tag ™ ——东京大学研究院医学研究科 小川觉之
  Phos-tag ™ 是专为研究磷酸化蛋白而新开发出来的试剂。此产品使用方便,不但可用于体外实验,还能定量分析体内蛋白的磷酸化水平。Phos-tag ™ SDS-PAGE 可用于常规电泳实验,无需购买特殊设备,性价比高。传统蛋白磷酸化的研究需要特异的磷酸化抗体、RI 等其它试剂,操作复杂,花费大,且放射性元素会有安全隐患,而 Phos-tag ™ 的出现恰恰可以弥补这些缺点,为磷酸化蛋白研究提供新的方向。
磷酸化蛋白和非磷酸化蛋白利用Phos-tag ™ SDS-PAGE 的分离效果图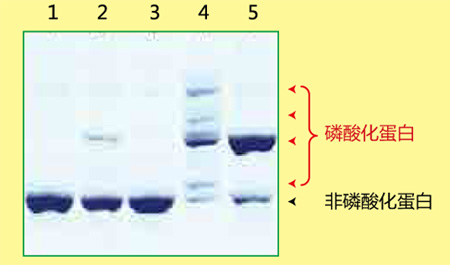 Lane 1 为非磷酸化蛋白,Lane 2-5 为磷酸化蛋白,各蛋白因磷酸化状态不同而条带迁移率也有所不同。
  磷酸化/ 非磷酸化蛋白的数量比、磷酸化程度、磷酸化蛋白的丰度等都可根据条带迁移和条带浓度求得。
【资料提供】
日本东京大学研究生院医学系研究科
【二维电泳中的应用:分析 hnRNP K 磷酸化异构体】
  小鼠巨噬细胞 J774.1 经 LPS 刺激后,裂解细胞,经过免疫沉淀法分离得到 hnRNP K 。在二维电泳中,一维是IPG 胶,二维是 Phos-tag ™ SDS-PAGE,可分离 hnRNP K 的异构体。利用质谱仪,可以确认不同的点代表不同的亚型或修饰蛋白。
二维电泳

同一个等电点的位置上,不同位点发生磷酸化都可以被区分开来(例: spots 6 vs. 8 and spots 4 vs. 7)
【参考文献】
Characterization of multiple alternative forms of heterogeneous nuclear ribonucleoprotein K by phosphate-affinity electrophoresis. Y. Kimura, K. Nagata, N Suzuki, R. Yokoyama, Y. Yamanaka, H. Kitamura, H. Hirano, and O. Ohara, Proteomics , Nov 2010; 10(21): 3884-95.
【结果提供】
  横滨市立大学 生命纳米系统科学研究科 生物体超分子系统科学专业 木村弥生(Dr. Y. Kimura)、平野久(Dr. H. Hirano)理化学研究所 RCAI 小原收
【EGF 刺激前后MAPK 磷酸化水平的变化】
  常规 SDS-PAGE 和Phos-tagTM SDS-PAGE 后迚行克疫印迹实验分析 EGF 刺激的 A431 细胞中 MAPK 磷酸化水平。

摘自 Kinoshita-Kikuta, E. et al., Mol.Cell. Proteomics. (2007)6: 356.
产品编号

产品名称

产品规格

产品等级

304-93526
Phos-tag Acrylamide AAL-107
5mM Aqueous Solution Phos-tag 丙烯酰胺5mM水溶液
0.3 mL
蛋白研究
300-93523
Phos-tag Acrylamide AAL-107
Phos-tag 丙烯酰胺
2 mg
蛋白研究
304-93521
Phos-tag Acrylamide AAL-107
Phos-tag 丙烯酰胺
10 mg
蛋白研究
134-15302
Manganese(II) Chloride Tetrahydrate氯化锰四水合物
25 g
for Molecular Biology